Engaging youth in the aerospace and industrial trades.
CAD Design Class
Twice a year the Kittyhawk Academy conducts a 4‐weekend Youth CAD class where students learn 3D solid modeling using the defacto industry standard software package SolidWorks. Taught in a classroom setting, a volunteer from the aerospace industry teaches the students the essential basics of 3D CAD design using SolidWorks.
By the end of the course, a student will be able to take a simple aircraft blueprint from the 1940s and design the same part in CAD. The skills and experience obtained from CAD training can be used immediately for entry-level jobs or internships that require basic CAD skills.
Click on photos.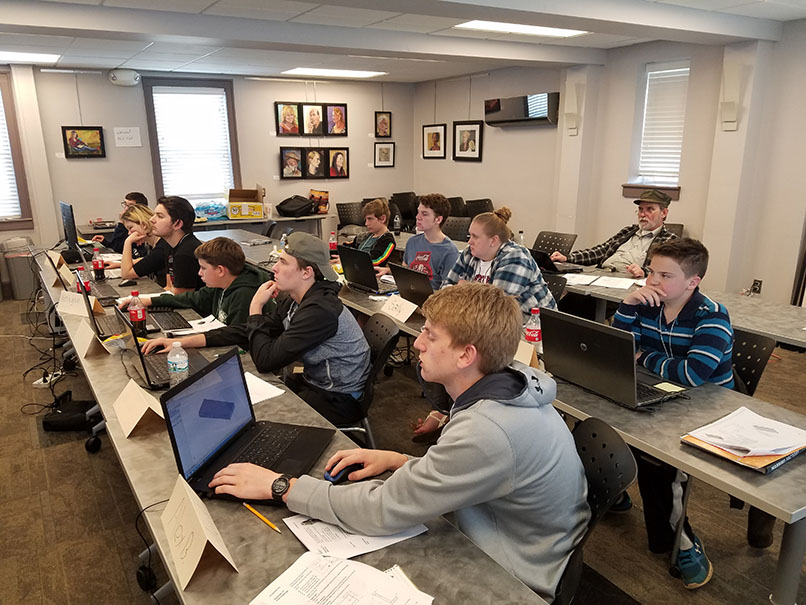 Ten students and one Marine veteran participate in the CAD Design class held during spring 2017 where students learn 3D modeling in SolidWorks CAD.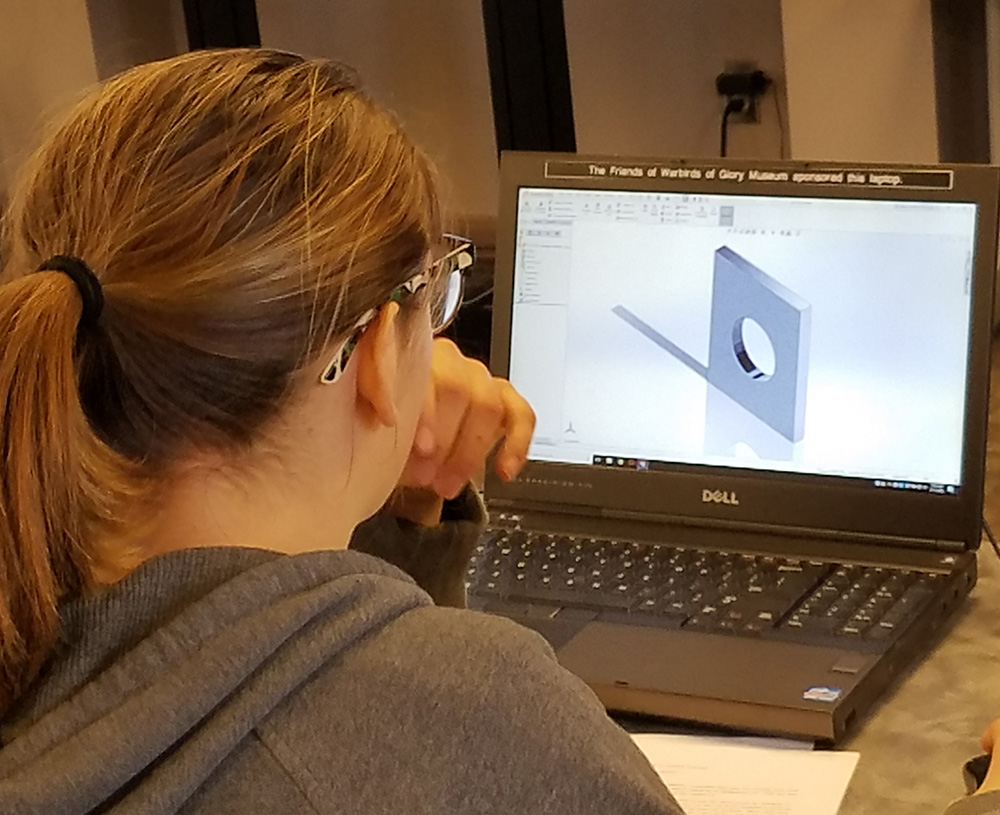 Zelie is working on a lab exercise. She is one of ten students that participate in our four-week youth CAD design class that we offer twice per year.
The CAD Design mentorship program is offered at no cost to the students. This is of particular benefit to families that cannot afford the expensive computers or tuition.
Thanks to the generous support of the Livingston Sunrise Foundation and individual donors, ten powerful CAD laptop computers have been purchased and loaded with SolidWorks software that are available to students for the CAD Design class. The students are also provided with printed workbooks, exercises, and meals.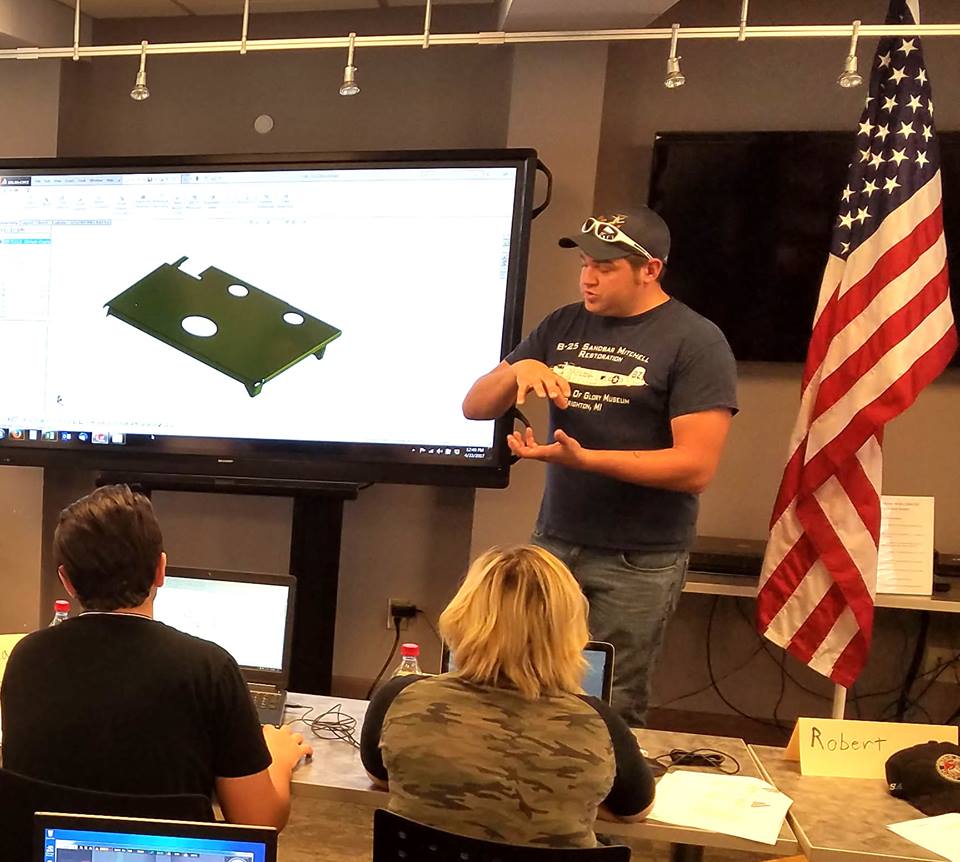 Museum Director Mr. Mihalek explains sheet metal modeling in SolidWorks CAD to the students of the Kittyhawk Academy CAD Design class.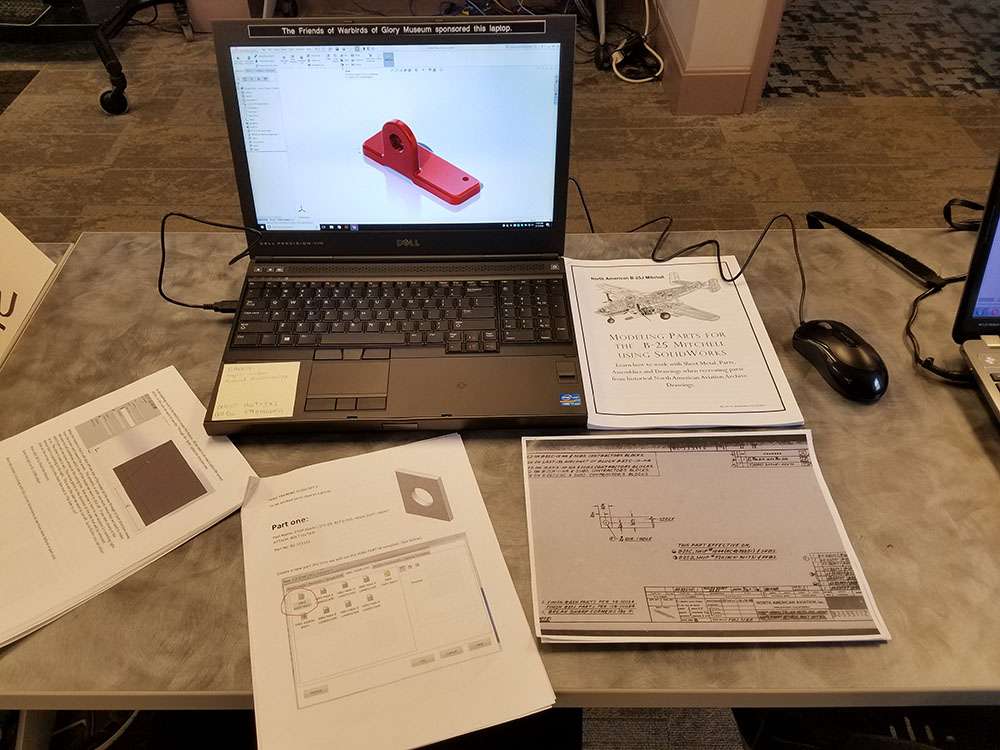 A typical student's CAD Workstation with the lessons plans and exercise in progress during the Kittyhawk Academy CAD Design class.
The students learn to appreciate the drafting and design challenges of the 1940's when the tools available to aeronautical engineers were slide rules and drafting boards.
As a final lesson of the CAD class, students create models of many individual aircraft parts and then create a virtual 3D assembly of those parts as they would appear on the actual aircraft.
Student Testimonials

"I really liked this. I could use this for starting my own CAD career. I am looking forward to using my skills outside of class."
"This class portrayed CAD in a great way! I will probably become an engineer because of this class. I really enjoyed this class."
"This class is a detrimental help to any students wishing to advance themselves in engineering fields, CAD fields or even machining fields. Great for helping the youth learn new skills that many schools are not teaching anymore. A well needed class great for all kinds of students willing to learn."
More Testimonials

"This class helped me by giving the basic CAD expertise I need to apply for the IT job I wanted."
"This class taught me SO much of CAD. No Joke! Before I didn't know how to make a sketch to 3D and now its easy. If I'm doing a project like restore a car and a piece is missing I can remake it in CAD."
"Having learned this, it opens a bunch of different job options. Plus I can use it for a 3D-printer."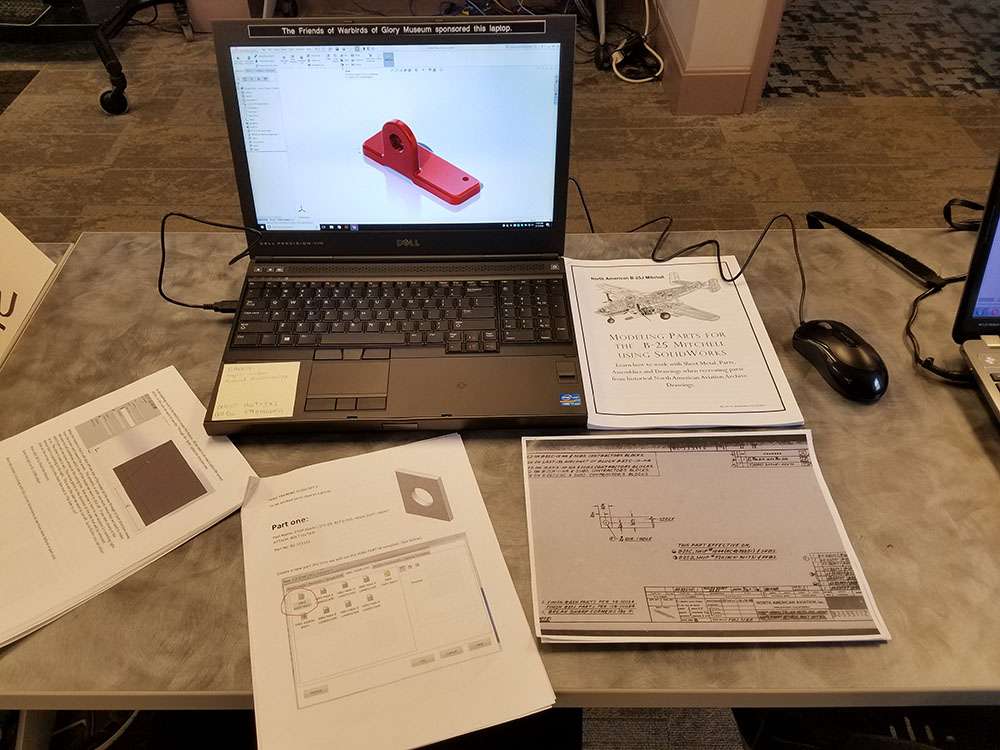 A typical student's CAD Workstation with the lessons plans and exercise in progress during the Kittyhawk Academy CAD Design class.
The Kittyhawk Academy is the training and mentorship program associated with the Warbirds of Glory Museum. The museum is restoring a WWII B-25 Mitchell aircraft in Brighton, Michigan to honor veterans that sacrificed for our freedoms. We are passionate about mentoring our community's youth in trade skills, workshop disciplines, mechanical comprehension, and good character to become productive citizens and employed adults.